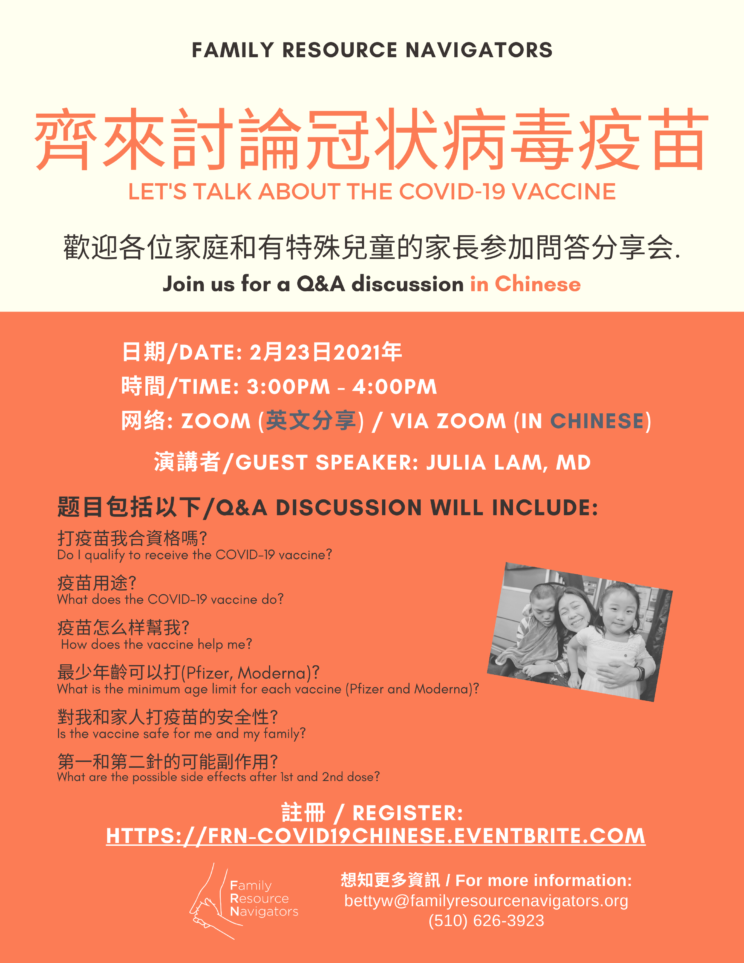 Let's Talk About The COVID-19 Vaccine_Chinese (download flyer)
日期/Date: 2月23日2021年
時間/Time: 3:00PM – 4:00PM
网络/Location: Zoom (英文分享) / via Zoom (in Chinese)

演講者/Guest Speaker: Julia Lam, MD
歡迎各位家庭和有特殊兒童的家長参加問答分享会. / For families of children with special healthcare needs or disabilities.

题目包括以下/Q&A Discussion will include:
打疫苗我合資格嗎?


Do I qualify to receive the COVID-19 vaccine?



疫苗用途?


What does the COVID-19 vaccine do?



疫苗怎么样幫我?


How does the vaccine help me?



最少年齡可以打(Pfizer, Moderna)?


What is the minimum age limit for each vaccine (Pfizer and Moderna)?



對我和家人打疫苗的安全性?


Is the vaccine safe for me and my family?



第一和第二針的可能副作用?


What are the possible side effects after 1st and 2nd dose?



註冊/REGISTER: Eventbrite

當你完成了Eventbrite註冊之後, 我們將會提供Zoom連結給你.
Zoom link will be provided after Eventbrite registration.
想知更多資訊/For more information:
bettyw@familyresourcenavigators.org