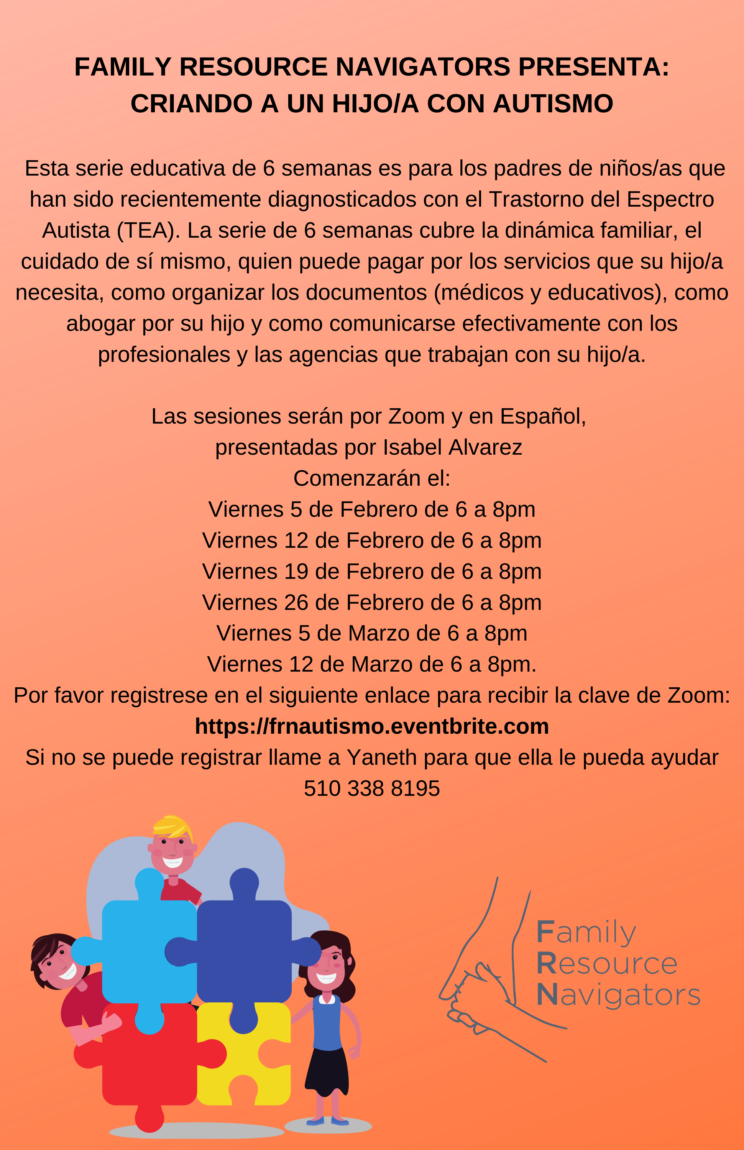 DATE /CUANDO:
Friday, February 05 / Viernes 05 de Febrero
Friday, February 12 / Viernes 12 de Febrero
Friday, February 19 / Viernes 19 de Febrero
Friday, February 26 / Viernes 26 de Febrero
Friday, March 05 / Viernes 05 de Marzo
Friday, March 12 /Viernes 12 de Marzo

Via Zoom in Spanish
Las sesiones serán por Zoom y en Español
TIME / HORA: 6:00pm-8:00pm
PRESENTED BY / PRESENTADAS POR: Isabel Alvarez

REGISTER / REGISTRACIóN REQUERIDA EN EL SIGUIENTE ENLACE: Eventbrite

Zoom link will be emailed before the event date to those who register on Eventbrite.
Registrese en el siguiente enlace para recibir la clavede zoom.
DESCRIPTION: A 6-week series for Spanish parents of newly diagnosed children with autism (ASD).
Esta serie educativa de 6 semanas es para los padres de niños/as que han sido recientemente diagnosticados con el Trastorno del Espectro Autista (TEA). La serie de 6 semanas cubre la dinámica familiar, el cuidado de sí mismo, quien puede pagar por los servicios que su hijo/a necesita, como organizar los documentos (médicos y educativos), como abogar por su hijo y como comunicarse efectivamente con los
profesionales y las agencias que trabajan con su hijo/a.
MORE INFO / O LLAMAR A Yaneth PARA AYUDAR A REGISTRARLOS: Yaneth (510) 338-8195