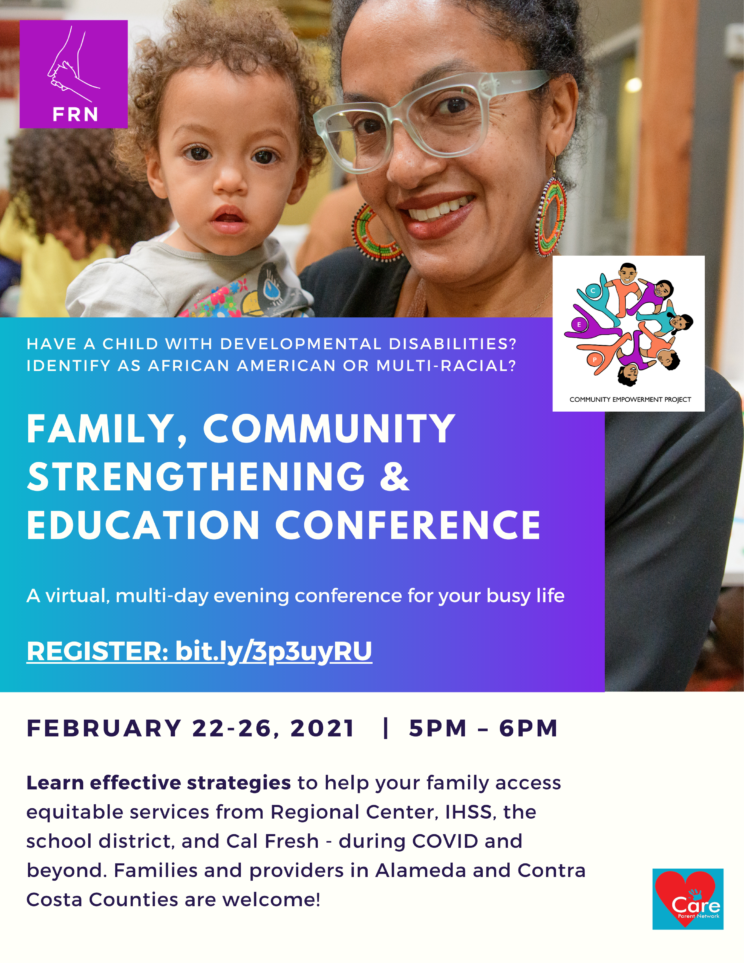 Family, Community Strengthening & Education Conference
A virtual, multi-day evening conference for your busy life:
5:00pm-6:00pm (Day 1-4)
5:00pm-6:30pm (Day 5)

Have a child with developmental disabilities? Identify as African American or Multi-racial?
Learn effective strategies to help your family accessequitable services from Regional Center, IHSS, theschool district, and Cal Fresh – during COVID andbeyond. Families and providers in Alameda and ContraCosta Counties are welcome!
Virtual sessions are designed for families who have a child with a developmental disability who identify as African American or Black. Topics will help Black families access services for their family, especially during these trying times.
Day 1: Cultural presentation/Keynote
Day 2: Cal Fresh & IHSS COVID Strategies
Day 3: Activity Session for Kids & Mental Wellness for Black Families
Day 4: IEP Strategies for Black families during COVID
Day 5: Regional Center support for Black families & Community Provider Panel
Questions?
Contact Kausha King at 510.274.0552
kaushak@familyresourcenavigators.org