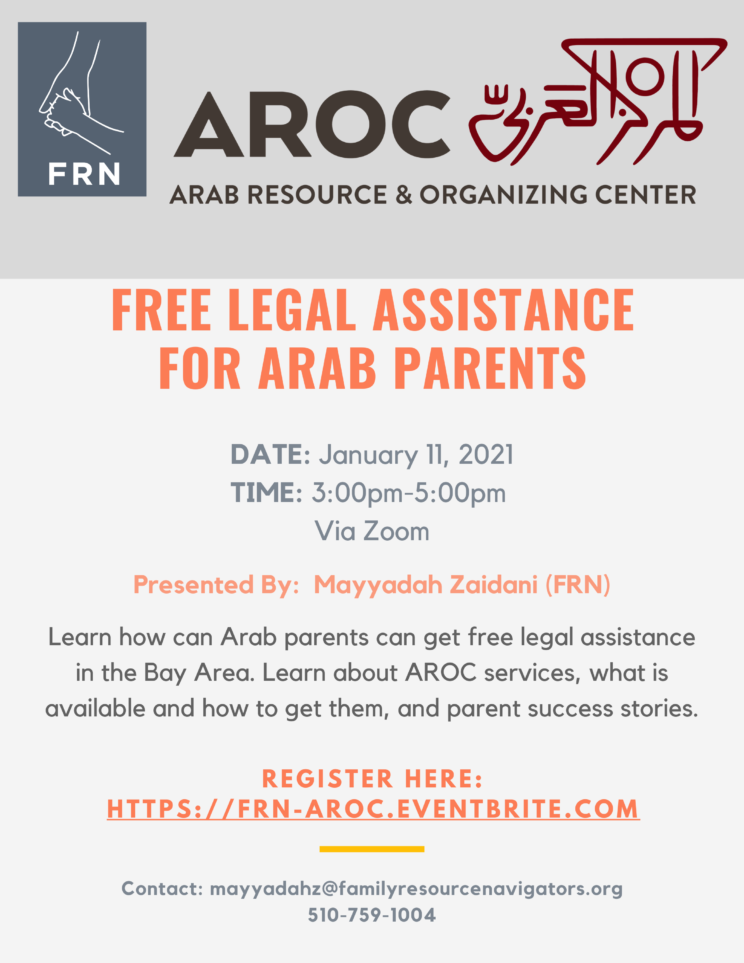 TOPIC: Free Legal Assitance for Arab Parents

DATE: January 11, 2021
via Zoom
TIME: 3:00pm – 5:00pm
PRESENTED BY: Mayyadah Zaidani (FRN)
REGISTER HERE: Eventbrite

Zoom link will be emailed before the event date to those who register on Eventbrite.
DESCRIPTION: Learn how can Arab parents can get free legal assistance in the Bay Area. Learn about AROC services, what is available and how to get them. During COVID-19, learn parent success stories of children with special needs and how AROC can help.
CONTACT: info@familyresourcenavigators.org  
خدمة المساعدة القانونية المجانية للآباء العرب
كيف نحصل على خدمة المساعدة القانونية المجانية باللغة العربية في منطقة الباي ايريا؟
من هو المركز العربي للموارد والتنظيم (AROC)؟ ماذا يفعلون؟
ما هي الخدمات المتوفرة من مركز الموارد والتنظيم العربي؟ هل تعرف كيف تحصل على جميع الخدمات التي تحتاجها من AROC؟
كوالد عربي لطفل من ذوي الاحتياجات الخاصة ، كيف يمكن لـ AROC مساعدتي؟
المركز العربي للموارد والتنظيم خلال جائحة كورونا
مشاركة قصة نجاح ام لطفل ذوي الاحتياجات الخاصة حصلت على مساعدة من المركز العربي للموارد والتنظيم.
سيتم تقديم هذا التدريب باللغة العربية ، من قبل ميادة زيداني من موسسة FRN ,و ليندا عريقات من مركز AROC
مزيد من التفاصيل يمكننا التحدث عنها عبر لقاء ورشة العمل مع ميادة زيداني و ليندا عريقات باللغة العربية من خلال تطبيق الزوم
يرجى الانضمام إلينا تاريخ11 كانون الثاني2021 ، الساعة 3:00 مساءً
لمزيد من المعلومات: ميادة زيداني
510 759 1004
mayyadahz@familyresourcenavigators.org