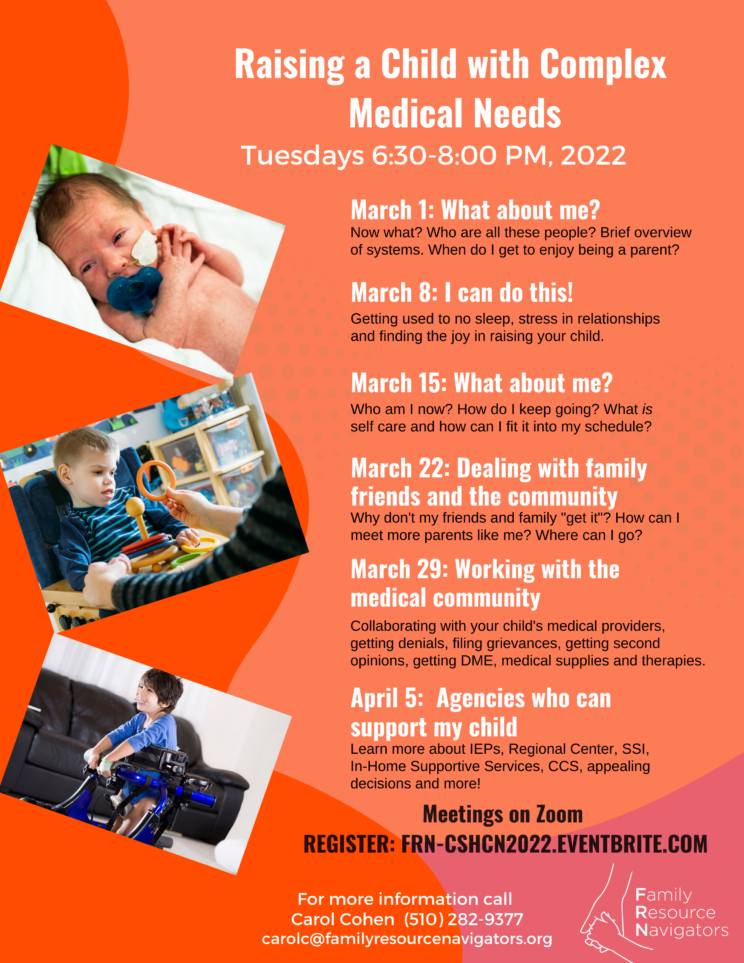 Raising a Child with Complex Medical Needs
A 6-Week Virtual Series
Join us for this 6 week series to learn more about services while sharing your own personal journey raising a child with complex medical needs.

TUESDAYS, MARCH 01 – APRIL 05, 2022
6:30PM-8:00PM
Via Zoom
Schedule:
March 01:

What about me?
6:30pm-8:00pm

Now what? Who are all these people? Brief overview of systems. When do I get to enjoy being a parent?
March 08:

I can do this!
6:30pm-8:00pm

Getting used to no sleep, stress in relationships and finding the joy in raising your child.
March 15: What about me?


6:30pm-8:00pm

Who am I now? How do I keep going? What is self care and how can I fit it into my schedule?
March 22: Dealing with family, friends, and the community


6:30pm-8:00pm

Why don't my friends and family "get it"? How can I meet more parents like me? Where can I go?
March 29: Working with the medical community
6:30pm-8:00pm

Collaborating with your child's medical providers, getting denials, filing grievances, getting second opinions, getting DME, medical supplies and therapies.
April 05: Agencies who can support my child




6:30pm-8:00pm



Learn more about IEPs, Regional Center, SSI, In-Home Supportive Services, CCS, appealing decisions and more!
Questions?
Carol Cohen (510) 282-9377
carolc@familyresourcenavigators.org