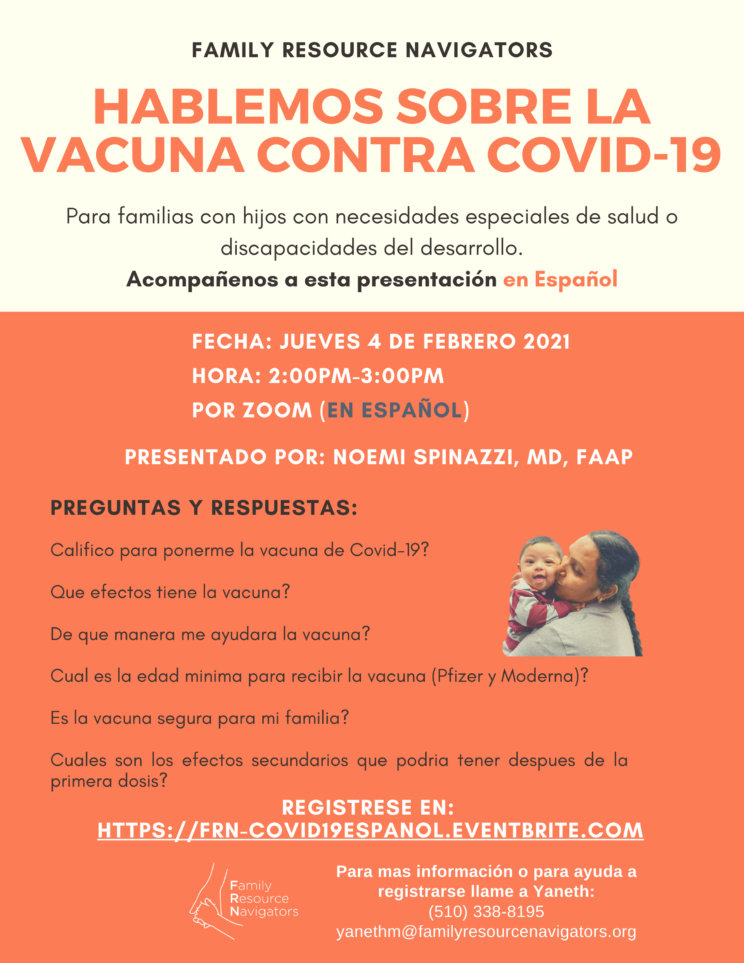 Hablemos sobre la vacuna contra Covid-19_Spanish (Dowload Flyer)
FECHA / DATE: Jueves 4 de Febrero 2021
HORA / TIME: 2:00pm-3:00pm
Por Zoom / Via Zoom
PRESENTADO POR / PRESENTER: Noemi Spinazzi, MD, FAAP
PREGUNTAS Y RESPUESTAS?
Califico para ponerme la vacuna de Covid-19?
Que efectos tiene la vacuna?
De que manera me ayudara la vacuna?
Cual es la edad minima para recibir la vacuna (Pfizer y Moderna)?
Es la vacuna segura para mi familia?
Cuales son los efectos secundarios que podria tener despues de la primera dosis?
REGISTRACIóN REQUERIDA EN EL SIGUIENTE ENLACE / REGISTER: Eventbrite

Registrese en el siguiente enlace para recibir la clavede zoom.
Zoom link will be emailed before the event date to those who register on Eventbrite.
O LLAMAR A Yaneth PARA AYUDAR A REGISTRARLOS / MORE INFO: Yaneth (510) 338-8195