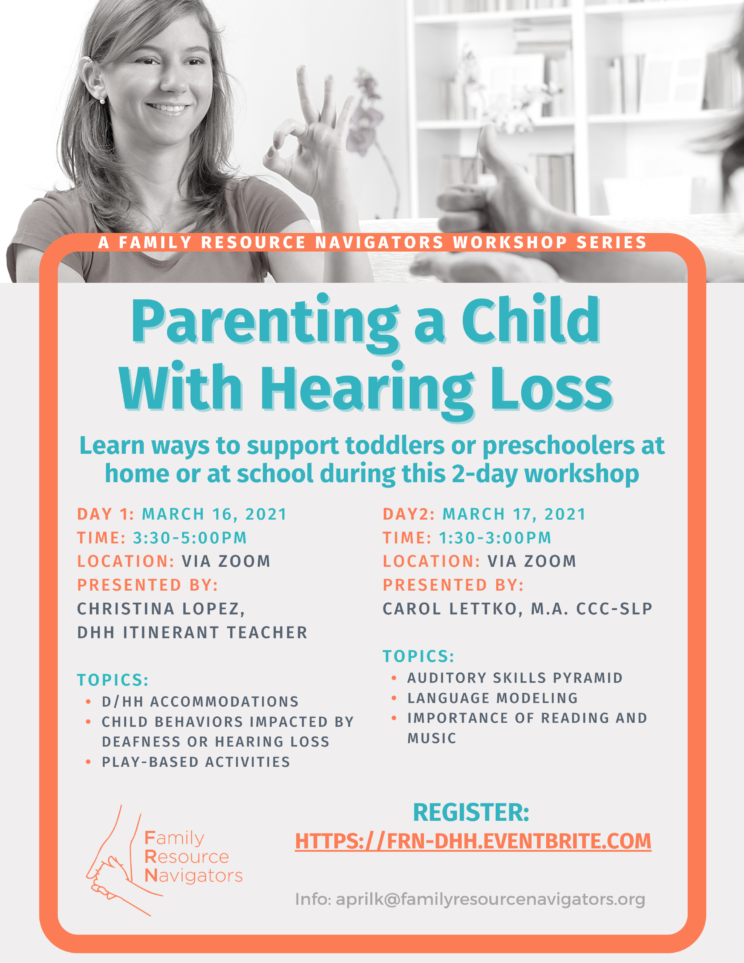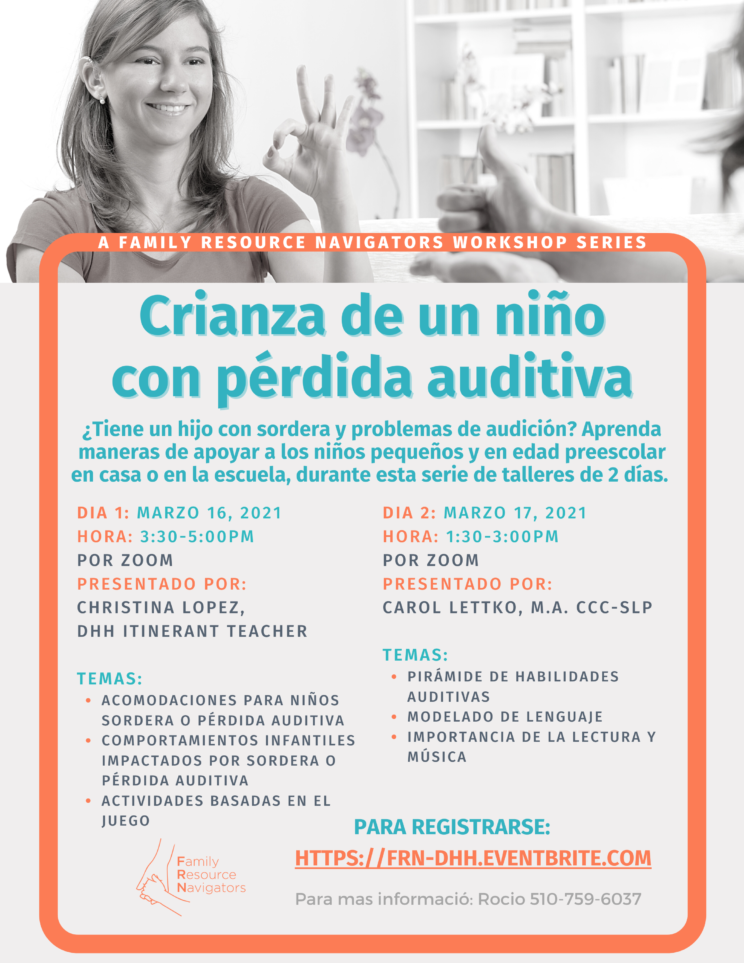 DHH Workshop Flyer Download (English)
DHH Workshop Flyer Download (Spanish)
Parenting a Child With Hearing Loss (2-Day Series)

Have a child with who is Deaf and Hard-of-Hearing? Learn ways to support toddlers and preschoolers at home or at school during this 2-day workshop series.
Each session will be one hour with Q&A afterward.
Crianza de un niño con pérdida auditiva
(serie de 2 días)
¿Tiene un hijo con sordera y problemas de audición? Aprenda maneras de apoyar a los niños pequeños y en edad preescolar en casa o en la escuela, durante esta serie de talleres de 2 días. Cada sesión será de una hora, luego Habra preguntas y respuestas.

DAY 1 / DIA 1: March 16, 2021
TIME / HORA: 3:30pm – 5:00pm
PRESENTER / PRESENTADO POR: Christina Lopez, DHH Itinerant Teacher

TOPICS / TEMAS:
D/HH ACCOMMODATIONS / ACOMODACIONES PARA NIÑOS SORDERA O PÉRDIDA AUDITIVA

CHILD BEHAVIORS IMPACTED BY DEAFNESS OR HEARING LOSS / COMPORTAMIENTOS INFANTILES IMPACTADOS POR SORDERA O PÉRDIDA AUDITIVA

PLAY-BASED ACTIVITIES / ACTIVIDADES BASADAS EN EL JUEGO
DAY 2 / DIA 2: March 17, 2021
TIME / HORA: 1:30pm – 3:00pm
PRESENTER / PRESENTADO POR: Carol Lettko, M.A. CCC-SLP

TOPICS / TEMAS:
AUDITORY SKILLS PYRAMID / PIRÁMIDE DE HABILIDADES AUDITIVAS

LANGUAGE MODELING / MODELADO DE LENGUAJE

IMPORTANCE OF READING AND MUSIC / IMPORTANCIA DE LA LECTURA Y MÚSICA

REGISTER / PARA REGISTRARSE: FRN-DHH.EVENTBRITE.COM
Zoom link will be provided after Eventbrite registration
Registrese en el siguiente enlace para recibir la clavede zoom

For more information (in English): aprilk@familyresourcenavigators.org
Para mas informació (en Español): Rocio 510-759-6037