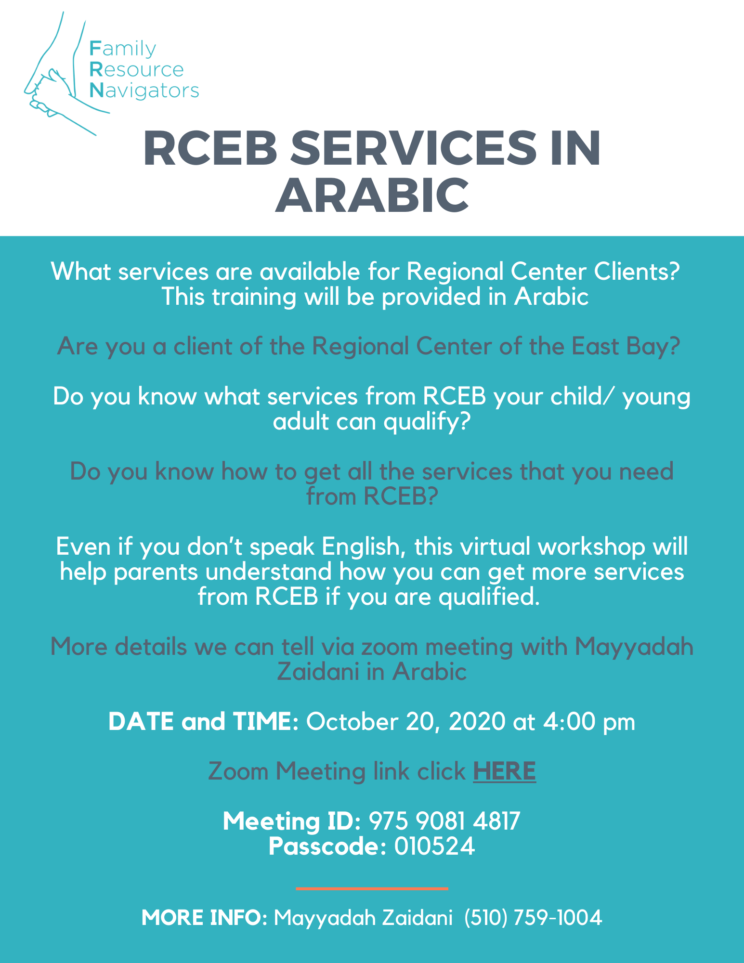 What services are available for Regional Center Clients? This training will be provided in Arabic
Are you a client of the Regional Center of the East Bay?
Do you know what services from RCEB your child/ young adult can qualify?
Do you know how to get all the services that you need from RCEB?
Even if you don't speak English, this virtual workshop will help parents understand how you can get more services from RCEB if you are qualified.
More details we can tell via zoom meeting with Mayyadah Zaidani in Arabic
DATE and TIME: October 20, 2020 at 4:00 pm
Zoom Meeting link click HERE
Meeting ID: 975 9081 4817
Passcode: 010524
MORE INFO: Mayyadah Zaidani (510) 759-1004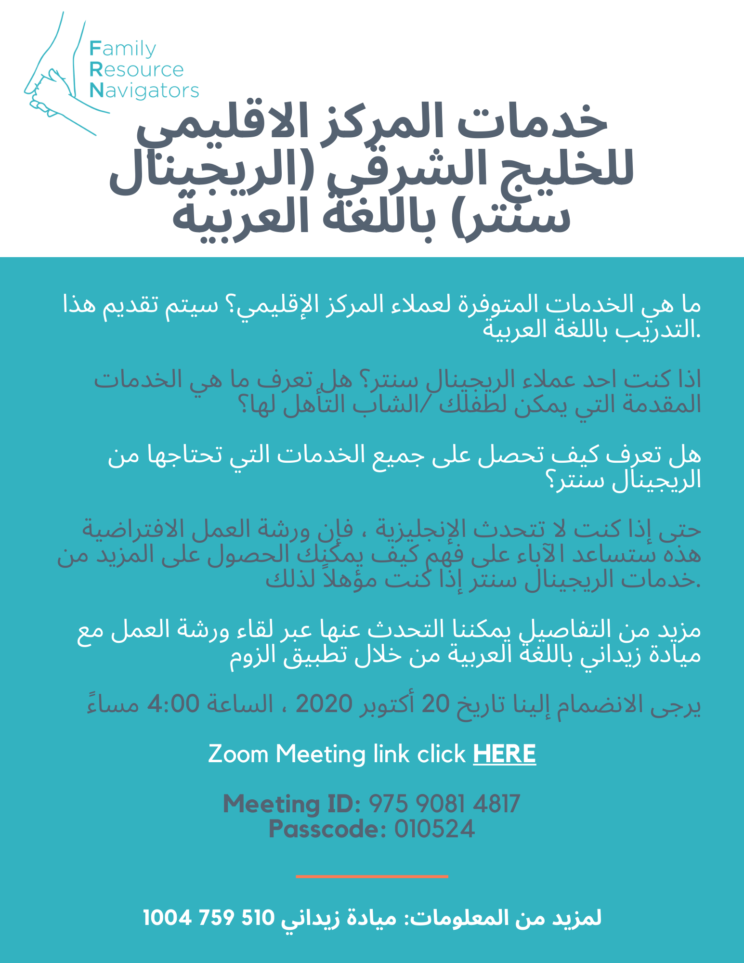 ما هي الخدمات المتوفرة لعملاء المركز الإقليمي؟ سيتم تقديم هذا التدريب باللغة العربية.
اذا كنت احد عملاء الريجينال سنتر؟ هل تعرف ما هي الخدمات المقدمة التي يمكن لطفلك /الشاب التأهل لها؟
هل تعرف كيف تحصل على جميع الخدمات التي تحتاجها من الريجينال سنتر؟
حتى إذا كنت لا تتحدث الإنجليزية ، فإن ورشة العمل الافتراضية هذه ستساعد الآباء على فهم كيف يمكنك الحصول على المزيد من خدمات الريجينال سنتر إذا كنت مؤهلاً لذلك.
مزيد من التفاصيل يمكننا التحدث عنها عبر لقاء ورشة العمل مع ميادة زيداني باللغة العربية من خلال تطبيق الزوم
يرجى الانضمام إلينا تاريخ 20 أكتوبر 2020 ، الساعة 4:00 مساءً
Zoom Meeting link click HERE
Meeting ID: 975 9081 4817
Passcode: 010524
لمزيد من المعلومات: ميادة زيداني 510 759 1004