Happy birthday Tootsie! 
Hard to believe that sweet Tootsie is almost 1 year old (it's her birthday on March 12). Tootsie "works" at FRN during the week - for nearly 10 months. Here is a picture of her first day at 'work' and one of her helping shop for supplies at Target for one of our community events.  It is amazing to see the beautiful and polite dog she has become.
Over the last 10 months, Tootsie has learned to lay quietly under the desk and let everyone work – and is really glad when we give her a treat to reward her for her fine work.  Visitors are always surprised at how quiet and calm she is "under" the desk.  Everyone says she is invisible, like a good service dog in training should be. (She also makes a great foot warmer for cold days).
She has learned over 15 commands already – and will learn even more when she goes to professional training in the Fall.  Her favorite command is 'up' – where she gets to put her paws on a table or surface. While most dogs can only stay in  'up' a short time – Tootsie loves being at eye level with the humans – and will stay in an 'up' for as long as people will let her.
She just loves people! She's met over 100 visitors at FRN, teaching them about puppies in training and what a service dog can do. She is beloved by staff and families alike, and always wants to meet more folks. Tootsie has to work really hard on staying calm and sitting still when people come and meet her.  She gets so excited. She stays sitting yet her whole body is shaking with joy.
Tootsie will be going to dog college in November, to study with professional trainers and hopefully become a partner and helper for a person with a disability.  We are lucky to have 6 months more of our sweet "Tootsie Roll" at FRN.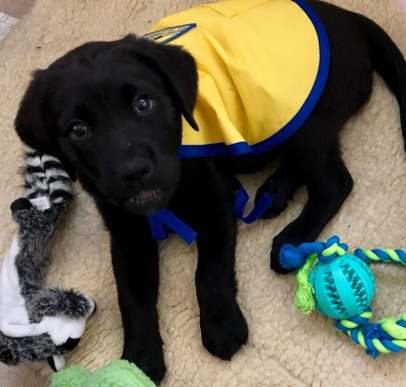 Some people ask, why are you hosting Tootsie?
It will be so hard to let her go - and yes, we will all cry like babies. I do it because my son Will has a dog like her. His name is Puck. And Puck spent months training to become Will's dog with another person or family. So that's why I'm doing it too. So I can pay it forward.
Right now, I'm working with her to get ready to go to professional training – and if she passes, she will become some one else's service animal.
These dogs always make a difference. 
For some, they are calm companions, helping people cope with stress and anxiety. Other dogs work with people who are hearing impaired and alert them to sounds. Some create a bridge to community.
For kids like my son Will, they physically pick things up. Will's dog can hold his wallet and stand up at a counter and pay for things for Will.  He can pick up things Will might drop.  He can pull off his socks and things like that. It means he can be more independent since Puck becomes an extension of him.
Want to meet her?
Tootsie will be at FRN's "Read with a Puppy" with some of her puppy and service dog friends.  We will be at the Union City Library March 4 from 4 to 5pm to read some books about service dogs and their training.  Come join us so you can tell Tootsie what a good girl she is.